---
---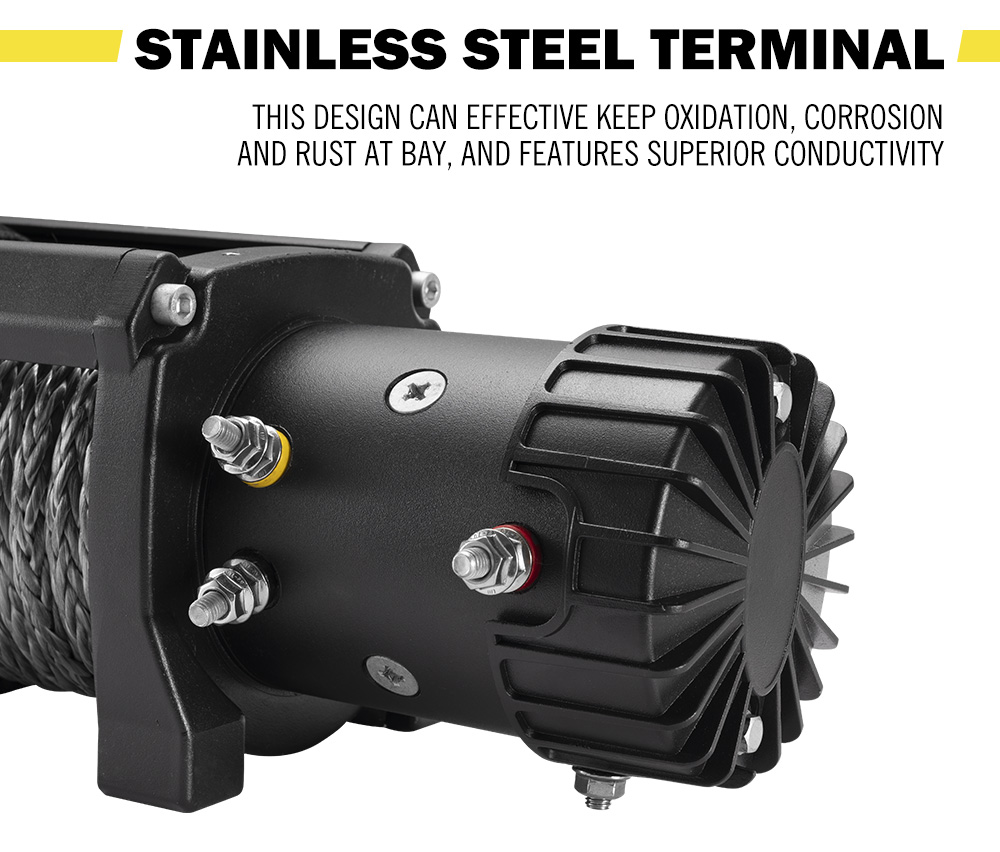 FEATURES
Monstrous Pulling Capacity: A 6 HP series wound DC motor delivers 9,500 lbs pull rating to recover your stuck 4x4s, Jeep, SUV and truck, etc.
Superior Durability: Made of aluminum with e-coating, this electric winch is rust and corrosion resistant and ideal for all kinds of complex situations.
Upgraded Remote Control: It also comes with a wireless controller that extends up to 35 meters to secure your safety and avoid getting things tangled up.
Waterproof Construction: Rated IP-67 in element resistance, its motor and sensitive parts are waterproof so that it can be of better use in all weather conditions.
Stronger Gear Ratio: High-performing reduction ratio of 216:1 and a 3-stage planetary gear system make it very hardcore and offers the best gearing options.
Solid Braking: There is an automatic brake for safety, which is designed to lower the rope slippage when power fails, giving the best results in all conditions.
Tough Synthetic Rope: Tough nylon made rope features breaking strength of 18,386 lbs and 26 meters is great for steep slopes and dangerous recovery locations.
Free Spooling: The upgraded clutch allows you manually spool the synthetic rope from the drum, which will add more convenience for daily use.
Stainless Steel Terminal: This design can effective keep oxidation, corrosion and rust at bay, and features superior conductivity.
Easy Installation: This wireless winch kit includes everything you need to start winching, and an user manual is attached for easier wiring.
SPECIFICATIONS
| | |
| --- | --- |
| Brand: | T95 |
| Condition: | Brand New |
| Rated Line Pull (Single Line): | 9,500lbs (4,310kg) |
| Motor: | 6 HP (4.5KW) Series Wound 12V DC Motor |
| Gear Reduction Ratio: | 216:1 |
| Length Of Synthetic Rope: | 26m (85.30ft) |
| Dual Control Mode: | Wireless (35 meters; 114.83ft);Wired ( 1.8 meters; 5.91 ft) |
| Free Spooling Clutch: | Turn |
| Brake: | Automatic in the Drum |
| Drum: | Automatic |
| Terminal: | Stainless Steel |
| Electric Winch: | Aluminum |
| Surface Finish: | E-coating |
| Hawse: | Aluminum |
| Duty Cycle: | Intermittent |
| Waterproof: | IP-67 |
| Gear Train: | 3-Stage Planetary |
| Control Mode: | Wired/Wireless Control |
| Finish: | Matte Black |
| Full Load Line Speed (Ft/Min): | 7.9 ft(2.41m) |
| No-Load Line Speed (Ft/Min): | 33.5 ft(10.21m) |
| Max Current At Full Load (A): | 353 |
| Synthetic Rope: | Nylon |
| Breaking Loads: | 18,386 lbs (8.34 tons) |
| Package Dimension: | 25"L (63.5cm) x 9.06"W (23cm) x 13.78"H (35cm) |
| G.W.: | 24kg |
Warranty
Electric Components: 1 Year Mechanical Components: 3 Years
What's In Box
1 PC(s) T95 4x4 9,500lbs Electric Winch
1 PC(s) Synthetic Rope
1 PC(s) Control Box
1 PC(s) Hawse
1 PC(s) Hook Strap
1 PC(s) Wired Controller
1 PC(s) Wireless Remote Controller (Battery Included)
1 PC(s) Winch Cable
1 PC(s) Screw & Nut Kit
1 PC(s) Hook
1 PC(s) User Manual
---